Start you career in Berlin
Work Everywhere!
PADI International diving course in English, Italian, German

Become a Divemaster
You first step as PADI Pro
Go Pro

What you Learn
Learn how to scuba dive in Berlin
Start now

Your next step
Your next step as Pro
Next Step
---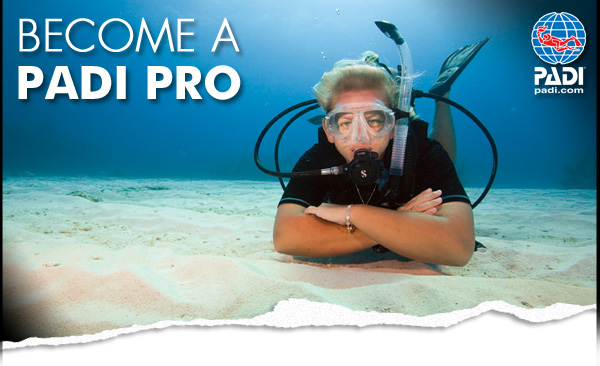 Go Pro: Become a Divemaster
It will change your life!


Sitting in your office thinking there must be something better out there to do? Love scuba diving? Want to share it with others on a whole new level? Take the PADI Divemaster course and do what you love to do as a career.

Scuba divers look up to divemasters because they are leaders who mentor and motivate others. As a divemaster, you not only get to dive a lot, but also experience the joy of seeing others have as much fun diving as you do.

The PADI Divemaster course is your first level of professional training. Working closely with a PADI Instructor, you'll fine-tune your dive skills, like perfecting the effortless hover, and refine your rescue skills so you anticipate and easily solve common problems. You'll gain dive knowledge, management and supervision abilities so you become a role model to divers everywhere. In locations all over the planet, Scuba Professionals are needed to assist beginner and more experienced divers to grow their own passion for being underwater.

As a PADI Divemaster, you'll lead others as you supervise scuba diving activities and assist with diver training. Whether you want to work at a faraway dive destination or close to home at a local dive shop, the adventure of a lifetime awaits you. PADI Divemasters are respected dive professionals who are aligned with the largest and most respected dive organization in the world – PADI. With more than 5900 PADI Dive Centers and Resorts on the planet, the world is your office - and your playground!
Requirments:
You should be physically fit before enrolling in the Divemaster course because this training will test your stamina and strength more than other dive certification courses. You will even be required to submit a signed medical statement from your physician. You also need to be at least 18 years of age or older to enroll.
In order to become a Divemaster, you must first complete the Open Water Diver course, then the Advanced Open Water Diver course, and finally, the Rescue Diver certification course.
In addition, as with the Rescue Diver course, you need to become certified in CPR and First Aid as well.


PADI Rescue Divers who are at least 18 years old may enroll in the PADI Divemaster course.
Emergency First Response Primary and Secondary Care 
(CPR and First Aid) training within the past 24 months.
A medical statement signed by a physician within the last 12 months.
At least 40 logged dives to begin the course and 60 dives to earn certification.
More info
Back to top
Continue
---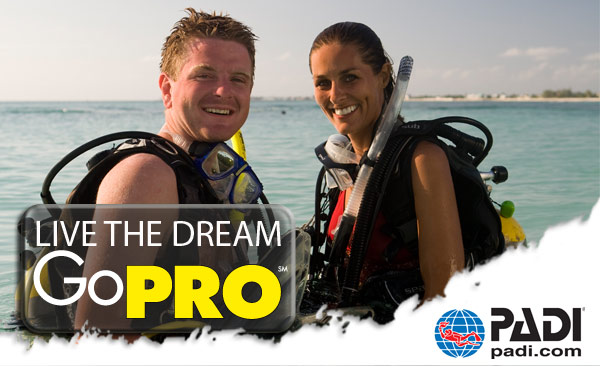 What you will learn
Your first step in a new career
The PADI Divemaster course teaches you to be a leader and take charge of dive activities. Through knowledge development sessions, waterskills exercises and workshops, and hands-on practical assessment, you develop the skills to organize and direct a variety of scuba diving activities. You complete water skills and stamina exercises, as well as training exercises that stretch your ability to organize and solve problems as well as help others improve their scuba. You put this knowledge into action through a structured internship or series of practical training exercises. As you progress through your Divemaster course, you'll expand your diving knowledge, hone you skills and increase your confidence. Then, as a PADI Divemaster, you'll use these attributes to lead, mentor and motivate other divers and experience the joy of seeing them transformed by the majesty of the the acquatic realm.

The course duration depends entirely on the amount of time you can devote to it. Some divers can complete it in some weeks and some take up to some months. Either way, we will make sure you are completely confident and ready before we certify you!


Topics and practical workshops include:
The role and characteristics of the PADI Divemaster
Supervising dive activities and assisting with student divers
Diver safety and risk management
Divemaster conducted programs and specialized skills
Business of diving and your career
Awareness of the dive environment
Dive setup and management
Mapping an open water site
Conducting dive briefings
Organizing a search and recovery project and a deep dive
Conducting a scuba review and skin diver course
Assisting with Discover Scuba Diving and leading Discover Local Diving programs.

You can complete the Knowledge Development of the PADI Divemaster course online with PADI eLearning.


More info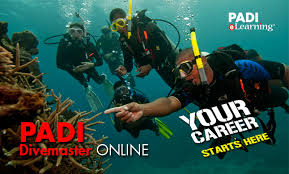 ---
Back to top
Continue
---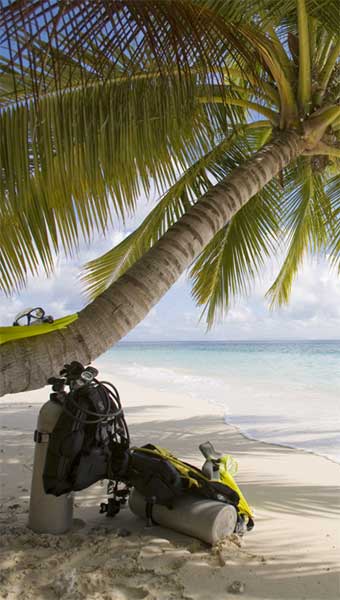 Be a Padi PRO
What you can do as Divemaster
After becoming certified as a Divemaster you can work as PADI Pro.
You will be authorized to:
Supervise both training and non-training-related activities by planning, organizing and directing dives
Assist a PADI Instructor during the training sessions for any PADI Diver course
Conduct the PADI Skin Diver course and PADI Discover Snorkeling program
Conduct the PADI Discover Local Diving experience
Conduct the PADI Scuba Review program
If qualified as a Discover Scuba Diving Leader, independently conduct the PADI Discover Scuba Diving program.
Earn the PADI Digital Underwater Photographer Specialty Instructor rating to be able to teach the PADI Digital Underwater Photographer specialty.
Independently guide Open Water Diver course students on the tour portion of  Training Dives.
Accompany Open Water Diver students under the indirect supervision of a PADI Instructor during:

surface swims to and from the entry/exit point and during navigational exercises
when the instructor conducts a skill, such as an ascent or descent, a Divemaster can remain with other student divers (with an individual student or buddy team)

Accompany student divers during Adventure Dives or Specialty training dives under the indirect supervision of a PADI Instructor.
Conduct the PADI Seal Team Skin Diver Specialist AquaMission
Conduct subsequent dives under an instructor's indirect supervision for Discover Scuba Diving participants after participants have satisfactorily completed the first dive with a PADI Instructor.
Teach Emergency First Response courses after successfully completing an Emergency First Response Instructor course.


Want to gain more professional experience for your CV?
Internship in Sardinia, the Gulf of Orosei.
The next step
A PADI Divemaster who has been a certified diver for six months may enroll in the PADI Instructor Development Course.
Are you ready to join the ranks of the dedicated professionals who teach the world's most progressive and popular scuba diver education programs? Then enroll your Instructor Development Course and become an Open Water Scuba Instructor.
IDC in Asia with award winning and Platinum PADI Course Director Camille Lemmens on the Gulf of Thailand 's tropical island of Koh Samui and to the Andaman Sea's tropical locations Koh Lanta, Phuket and Khao Lak to participate in one of his popular PADI IDC (Instructor Development Course) courses or packages in conjunction with PADI 5 Star IDC Center 'Easy Divers' based on Koh Samui, PADI 5 Star IDC Centre 'Blue Planet Divers' on Koh Lanta or PADI 5 Star IDC Centre 'Sea Dragon' based in Khao Lak or PADI 5 Star IDC Centre 'Kiwidiver' based on Phuket. In the Philippines you're welcome or 'mabuhay' in Moalboal with PADI 5* IDC Centre 'Neptune Diving Adventures' and in Puerto Galera with PADI 5* IDC Center 'Atlantis Dive Resort'. Please contact him for more specific information. Camille's emphasis is on personalized training. He works generally with small groups and conducts all parts of the IDC training himself and is available at all times during the complete IDC which allows for lots of personal and individual attention.
Sardinia, Italy // Divemaster Internship
Cala Gonone - Orosei (Nuoro) Sardinia


Diving in Sardinia offers aquarium-like conditions. Often described as the most exciting diving in the Mediterranean, it is both varied and suitable for all divers, from novices to the more experienced. Sardinia ranks as one of the most picturesque islands in the Mediterranean . What better scuba diving location could you look for only hours from Berlin? Diving in Sardinia is always richly rewarding with a reef, cave and wreck dives to while away half an hour or more! Sardinia never disappoint scuba divers: with its clear azure waters it is the perfect backdrop for some of the best diving (and snorkeling!) you will find in the Mediterranean.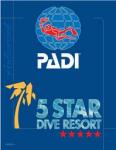 The Orosei Gulf is a first class introduction to cave diving. In fact, everywhere you look the topography of the world underwater is mesmerising. Hunt out the marine life that hides in overhangs or just enjoy the eels and fish that hide amid sponges on a drop off. There are few currents here to worry about. Enjoy the slower pace of life and see Sardinia from a fresh new perspective. In the Golfo di Orosei also lies the wreck of the KT-12. This ship was carrying lorries and other goods for the Afrika Korps, when she was torpedoed in 1943 by HMS Safari – one of Britain's most successful submarines of the Second World War. It now makes an interesting diversion for wreck divers in search of military hardware covered with marine life. Exploring any wreck which has as interesting a history as the KT-12 is reason enough to dive in Sardinia. The wreck is full of intact military hardware, has plenty of Mediterranean marine life and is extremely photogenic – something for everyone.
---
PADI Pro
Diving Career Flowchart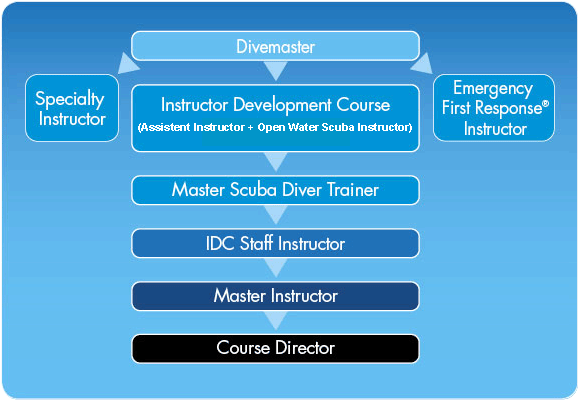 Divemaster is the first level of the PADI Professional ratings. This elite qualification allows you to supervise recreational diving activities, either boat or land based, and to work as an instructional assistant on any PADI courses. As a PADI Divemaster you will hold the minimum rating for employment in the Diving Industry. It is also the minimum pre requisite for enrolment in a PADI Instructor Course (IDC). The IDC is made up of two parts – the Assistant Instructor (AI) course and the Open Water Scuba Instructor (OWSI) program. Most dive professionals complete the entire IDC and go on to attend an Instructor Examination (IE), which is the final step to earn a PADI Instructor certification.
Successfully completing just the AI course results in a PADI Assistant Instructor qualification. When an AI is ready to progress, attending an OWSI program allows entry into an IE to earn a full PADI Instructor rating.
All PADI Instructors will benefit from taking Specialty Instructor training courses, especially those who are ready to step up to the Master Scuba Diver™ Trainer (MSDT) rating, which requires at least five PADI Specialty Instructor certifications.
---
Contact
Nice to meet you!