Learn in Belin, dive everywhere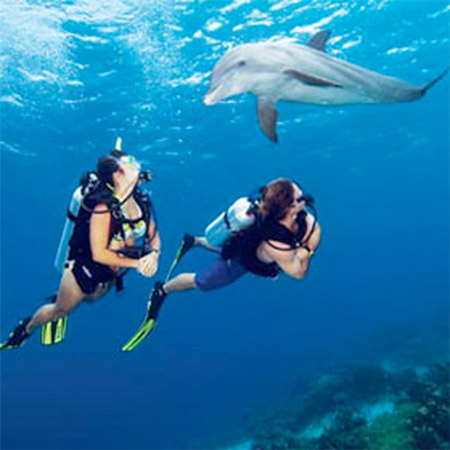 Time for a trip
Make your next holyday a great diving experience. Whether you want to explore shipwrecks or see coral of every color, scuba diving is a great way to travel and discover the underwater world.
Go Diving!
There are quite a few very good reasons to learn scuba diving before going on vacation. The obvious reason is that you really have better things to do during your vacation than reading a book, watching a video and doing skills in a pool, don't you? Let's plan on using these days to have fun! Let's keep the "studying part" for Berlin. If you are already a certified scuba diver but has it been a long time since you have been diving? Then our Refresher course is for you!
Come to dive this summer in the most fascinating area of Sardinia, the Gulf of Orosei.
Or if you want to go further, diving in Asia is one of the most mesmerising
experiences you could have!
---
Sardinia, Italy // Summer 2021
Cala Gonone - Orosei (Nuoro) Sardinia - Italy
Diving in Sardinia offers aquarium-like conditions. Often described as the most exciting diving in the Mediterranean, it is both varied and suitable for all divers, from novices to the more experienced. Sardinia ranks as one of the most picturesque islands in the Mediterranean . What better scuba diving holiday could you look for only hours from Berlin? Diving in Sardinia is always richly rewarding with a reef, cave and wreck dives to while away half an hour or more! Sardinia never disappoint scuba divers: with its clear azure waters it is the perfect backdrop for some of the best diving (and snorkeling!) you will find in the Mediterranean.The Orosei Gulf is a first class introduction to cave diving. In fact, everywhere you look the topography of the world underwater is mesmerising. Hunt out the marine life that hides in overhangs or just enjoy the eels and fish that hide amid sponges on a drop off. There are few currents here to worry about. Enjoy the slower pace of life and see Sardinia from a fresh new perspective. In the Golfo di Orosei also lies the wreck of the KT-12. This ship was carrying lorries and other goods for the Afrika Korps, when she was torpedoed in 1943 by HMS Safari – one of Britain's most successful submarines of the Second World War. It now makes an interesting diversion for wreck divers in search of military hardware covered with marine life. Exploring any wreck which has as interesting a history as the KT-12 is reason enough to dive in Sardinia. The wreck is full of intact military hardware, has plenty of Mediterranean marine life and is extremely photogenic – something for everyone. For the non-divers there is plenty of activity in Cala Gonone: outdoor pursuits are big and there's excellent snorkelling and kajaks tours, mountain biking and hiking routes, boat excursions towards the enchanting coves, like Cala Luna. The area around Cala Gonone is also a traditional spot to go rock climbing in Sardinia!
Some examples:
Accomodation in appartment from 50 euro/night
Open Water Referral Course (4 dives): 300 euro
Advacend Open Water Course (5 dives): 345 euro
PADI Specialty course Cavern (4 dives): 380 euro
Day Trips (2 boat dives): from 70 euro (more days available)
Full Equipment rent (Scubapro): 20 euro/day